Individual support
Champions
Bringing people together in wonder.
We believe everyone deserves the right to escape from the ordinary and share unique moments together.
We present, create and champion live performance to bring people together.
Enabling people to laugh, cry, cheer, debate and grow together. 
Champion our charity with a donation of £120 a year or more and you will help… 
bring high-quality live performance to our beautiful heritage theatre
create Hat Fair to surprise and entertain audiences with Outdoor Arts each year
enable our creative learning and engagement programme, Playmakers, to support our communities to be healthier and happier
Our gift to you
Invitations to exclusive behind-the-scenes events
Complimentary Play to the Crowd Membership (value £35)
Close relationship with our creative team behind-the-scenes
Investor
Our Investors are visionary donors who will enable our organisation to flourish, now and long into the future. Your support will be recognised with a suite of benefits exclusive to you, which could include personal engagement with artists and our team, private events and public acknowledgement.
Invest in our charity with a donation of £1000+ per year and you will help us to inspire our communities to connect with and participate in live performance - both indoors and out – and invite them to 'escape from the ordinary' and discover a lifelong love of theatre and the arts.
As well as a complimentary membership, you can also take advantage of these unique benefits as our gift to you:
Opportunities to meet with CEO and gain insight into Play to the Crowd's work
Invitation to an annual exclusive event with the senior team and other events
Invitation to the official opening night of the annual pantomime 
To become an Investor, please contact Kirstie Mathieson below.
T: 01962 840 440
E: kirstie@playtothecrowd.co.uk
Name a seat
The most important moments don't happen on the stage.
As one of the longest surviving cine variety theatres of its kind in the country, Theatre Royal Winchester has been at the cultural heart of Winchester's community for over 100 years.
Celebrate your or a loved one's love of the theatre by naming a seat and giving a gift to Play to the Crowd, allowing us to continue in our work to inspire those to connect with and participate in live performance.
By donating £500 to name a seat at Theatre Royal Winchester you will be part of our future.
Your seat will have a plaque engraved with a dedication of your choice and will be in place for ten years.
To name a seat, please contact:
kirstie@playtothecrowd.co.uk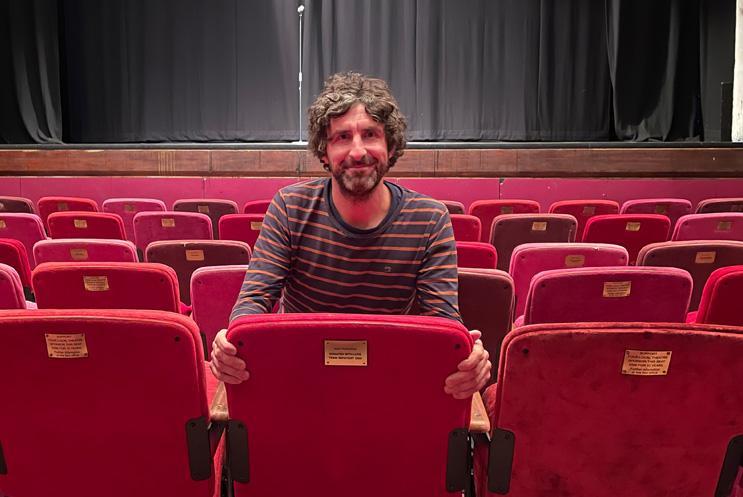 "I supported Play to the Crowd by naming a seat at Theatre Royal Winchester. During the pandemic, we realised how close we were to losing these precious resources and how important it was to rally together. So thank you to everybody who donated to keep Theatre Royal Winchester alive!"
- Mark Watson, comedian
Remember us in your Will
If the time is ever right for you to remember a charity in your Will please remember Play to the Crowd.
Every gift – however large or small – makes a difference.
Even 1% (so your loved ones inherit 99%) or a modest cash sum. 
Your gift will:
inspire people to connect with and participate in live performance
help people to discover a lifelong love of theatre and the arts
protect the heritage of our listed theatre building, Theatre Royal Winchester
keep Hat Fair, the UK's longest continually running Outdoor Arts festival, free to attend for all
inspire people to come together and experience the extraordinary
Our charity's vision is to delight and unite.
Leaving a legacy really is the easiest and most cost effective way for you to support our work, ensuring the arts and culture in Winchester survive and thrive long into the future. 
If you would like to find out more about how you can support Play to the Crowd with a gift in your Will, get in touch with Kirstie Mathieson, Communications and Development Director, who will be happy to have an informal and confidential conversation with you.
Kirstie Mathieson, Communications and Development Director
T: 01962 840 440
E: kirstie@playtothecrowd.co.uk
Alternatively, you can seek advice from your solicitor – all you need is the following information about us:
Charity Name: Play to the Crowd
Address: Theatre Royal Winchester, Jewry Street, Winchester, Hampshire, SO23 8SB
Registered Charity Number: 1077139
Donate
Amount to Donate: £
0