Chief Executive celebrates milestone!
This month (March 2022), our Chief Executive, Deryck Newland, celebrates 5 years at Play to the Crowd.
Deryck became Chief Executive of Live Theatre Winchester Trust (Theatre Royal Winchester and Hat Fair) on 1 March 2017. In 2019, the organisation rebranded and became Play to the Crowd, overseeing Theatre Royal Winchester, Hat Fair, and Playmakers – a new strand that encompasses all of our education and community work.
Before coming to Winchester Deryck led Pavilion Dance South West, one of England's National Dance Development Organisations, as Artistic Director and Chief Executive. He was also Director of Salisbury Arts Centre between 2007 and 2012.
Congratulations on your 5-year milestone at Play to the Crowd! What were your first impressions of the organisation, and Winchester in general, when you first joined back in 2017?
Winchester greeted me so warmly when I arrived in 2017 and made me feel very welcome. I even got a special reception in my honour from the Mayor! That first impression illustrated to me how much the local community value their theatre and Hat Fair too of course. Since then that has been reinforced to me time and time again and none more so than in the teeth of the pandemic when the community response to our survival appeal was astonishing and literally saved the organisation. Indeed over the last 50 years Theatre Royal Winchester has been saved by its community on several occasions; did you know that in the 1970's the building was due to be demolished to make way for a supermarket car park until the community gathered the resources to buy the freehold to protect it from such a fate? It is now a listed building and formally recognised as a Community Asset.
What was clear when I first joined was that the organisation needed a refresh; needed to restate its charitable vision so that the public at large could see more clearly everything it did and understand its status as an arts and education charity. One of the reasons I joined the team was the exciting combination of a beautiful heritage theatre and a distinctive and much loved Outdoor Arts Festival. There are so many opportunities there for us to reach new audiences, engage with our communities and encourage local creativity, all things I had championed in my previous roles and feel very passionate about.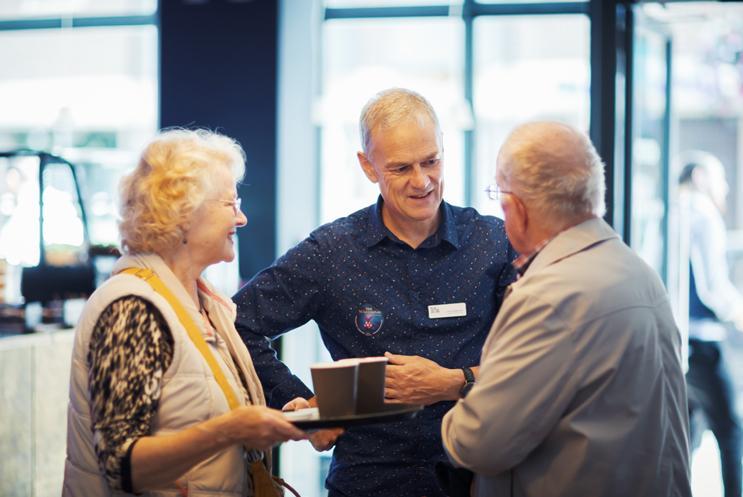 Deryck chatting to members of the public during Theatre Royal Winchester's Open Day 2019.
The organisation has changed dramatically in the last few years, inside and out. What has that experience been like?
There is an old adage that the only constant is change. Particularly in a sector like the arts it is so important to be prepared to take risks, try new things and experiment with new ideas. Fundamental to our journey since 2017 has been the rebrand. This is not just about names and logos but about the way an organisation thinks and behaves. If done right it should permeate every aspect of what you do, from the people you recruit to the work on the stage.
Having said that, the change of name for the charity from 'Live Theatre Winchester Trust' to 'Play to the Crowd' is an important signal. Both Play and Crowd are significant words for us and signify our intent to 'Delight and Unite' our communities. Arts and culture should be for everyone, they are a human right not just a nice to have. Everything that you might have seen changing over the last 5 years has been driving towards the same agenda - to open up our organisation for the whole crowd and to open our doors and our arms in as wide a welcome as possible. So, the development of the Cafe Bar in our front of house area, the encouragement of more local community involvement in Hat Fair, the creation of a new sub brand called Playmakers, the broadening of the professional programme ...I could go on...has all been to enable a wider cross section of our community to engage with us.
Change can be unsettling of course and sometimes requires difficult decisions which not everyone will always agree with. However, managing change, charting a course to follow a clear vision and then clearly articulating and advocating for that vision is the job of any leader. It can be a lonely experience but it can also be very rewarding. I am so lucky that I work with such amazingly committed people with great integrity and talent. If nothing else I owe it to them always to be transparent and honest as we navigate change and to try to ensure we all go on the journey together.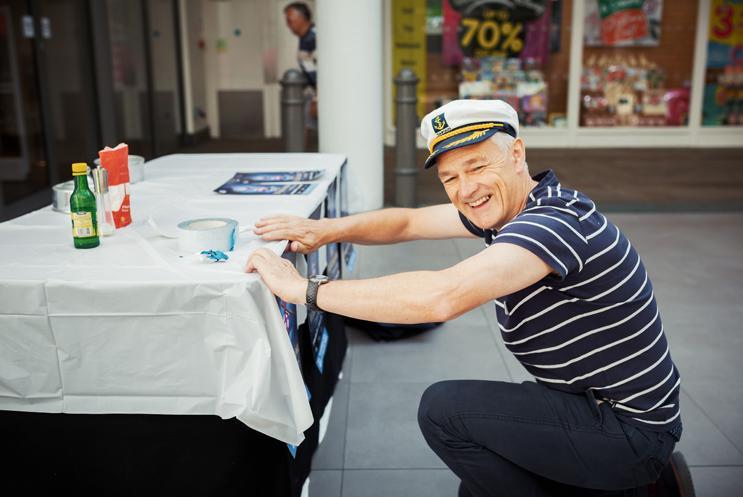 Deryck went nautical for our Dick Whittington panto launch in 2019!
The Covid-19 pandemic was a difficult time for the arts sector. Play to the Crowd made it through it, but not unscathed. What has been the biggest challenge for you as a Chief Executive during that time?
In my whole career I have never had to manage change at such pace, or in such challenging circumstances. I hope I have stayed true to my principles throughout but you end up questioning everything when you have to make 25% of your team redundant just to find a way to keep the organisation in existence. That was, without doubt, the biggest challenge I have faced, not only in my 5 years in Winchester but in my whole working life. The trustees of the organisation were extraordinary during that time and supported me with such empathy and expertise throughout, often meeting online every week as we tried to keep the organisation solvent when we were unable to earn money because we had to close our building. As I write this, that closure was exactly 2 years ago to the day. It's been a long haul, but thanks to the local community and then also the Culture Recovery Fund, we are still alive and kicking and are now beginning to rebuild our staff capacity again, having developed a new structure for the organisation.
Can you name a few of your highlights from the past 5 years at Play to the Crowd?
This one takes a bit of thinking about because everything seems coloured by the Covid experience. Certainly the most emotional experiences came during the Survival Appeal across the summer of 2020 when so many people stepped forward to support and so many extraordinary messages were posted on the Crowdfunder.
It's astonishing that I should identify a highlight from a time when almost everything we normally do had to be shut down! However, another highlight has been the way the staff team found a way of keeping creative experiences alive during the pandemic, whether that was through Playmakers Youth Theatre via Zoom, by live streaming shows into people's homes or by creating whole new projects online such as Wintopia.
Then, I have to say that Hat Fair, each year, is a special highlight for us as it is when we feel like we are really encapsulating that vision we have to Delight and Unite. So many smiling people, so much laughter and so many wonderful creative people bringing bonkers but brilliant shows to the City.
Finally I must say that I have taken great personal satisfaction from launching our rebrand and opening our newly refurbished front of house area and Cafe Bar in the autumn of 2019. It felt like the completion of part 1 of the vision, or, as I often say: It got us to base camp. Then Covid came of course! So I reckon it is now going to take another 5 years to push on with part 2 - the trek upwards from base camp!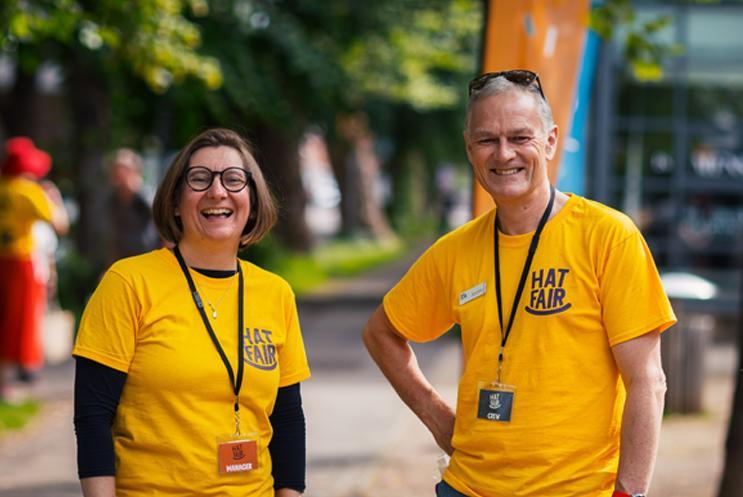 Deryck Newland with Kirstie Mathieson (Communications and Development Director, Play to the Crowd) at Hat Fair 2021.
Finally, how would you like to see Play to the Crowd develop in the next 5 years?
We have just completed the business plan for 2022-2027, with the first and immediate priority being to complete our recovery from the pandemic and ensure we are prepared for future shocks. The next 5 years are likely to be rocky and fraught with external challenges so we need to be resilient and ready.
Then we want to prioritise all our community, engagement and young people's work and build the Playmakers brand. As part of this we have an ambition to find a home for Playmakers. There is no space at the theatre to accommodate this important part of our work. If anyone has any ideas for a space that we could colonise for that purpose do let me know!
There are also ideas for the ongoing improvement to the Theatre Royal Winchester with a particular focus on the toilets and, you guessed it, on further access improvements.
Over the next 5 years we will also see a diversification of ways in which we bring performance to people with webcasting, live streaming and our new mobile trailer stage all having a bigger role to play in the years ahead.
So much to look forward to and so much still to do!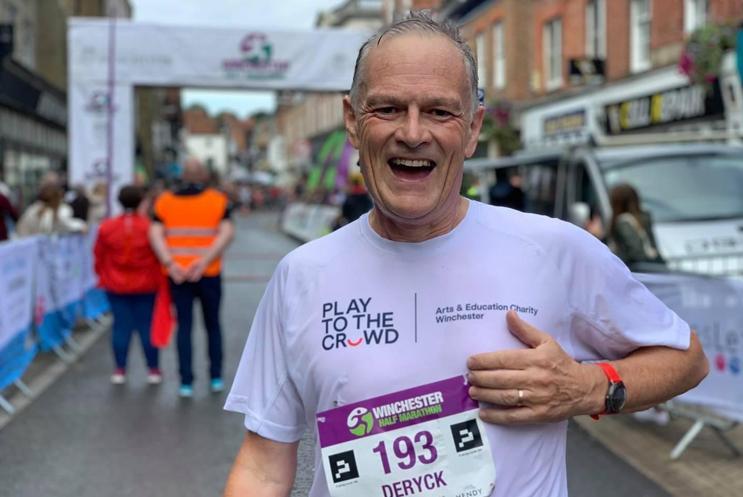 Deryck taking part in the Winchester Half Marathon to help raise funds for Play to the Crowd, arts and education charity.