New partnership with Paris Smith
We are thrilled to announce that Paris Smith have renewed their Corporate Partnership with our charity.  Previously the regional law firm had supported Theatre Royal Winchester's Music Programme but the new agreement sees their support increase to get behind the theatre's hugely successful annual pantomime.
Deryck Newland, Chief Executive of Play to the Crowd comments "Pantomime is often a child's first experience of live performance, and it's often an event that brings generations of families together for a shared experience. Paris Smith's support will help us significantly in being able to continue creating these magical experiences for our community."
"We are hugely thankful to the team at Paris Smith for their continued investment in us and for their recognition and understanding of the power that live performance has in creating happy and healthy communities."
Kirstie Mathieson, Communications and Development Director of Play to the Crowd, continues, "Our traditional family pantomime is enjoyed by over 18,000 each year and is a highlight of the city's festive celebrations. Although we are predominantly a receiving house, the pantomime is the one show each year we produce ourselves and we are very proud of it. We have worked with the same creative team for many years and they know what our audiences love and expect from a traditional family pantomime. The production also provides fantastic performance experience for local young performers in the support cast, providing a great platform for those wishing to pursue career in the industry. We thank Huw, Helen and the wider team at Paris Smith for their investment which will allow us to continue to delight and unite our community and support the next generation of performers."
Huw Miles, Managing Partner at Paris Smith, expressed his enthusiasm for the new partnership, stating; "At Paris Smith we understand the power of live performance to create lasting memories and to provide joy to audiences of all ages, bringing families together. We are delighted to support Play to the Crowd's pantomime, which is a magical festive experience. This new partnership will help Play to the Crowd to continue its work in bringing the community together through live performances.
This year's pantomime Cinderella will be produced by the same creative team behind The Wizard of Oz, Beauty and the Beast and Aladdin. Cinderella will run from 30 November 2023 - 1 January 2024. Tickets are on sale now.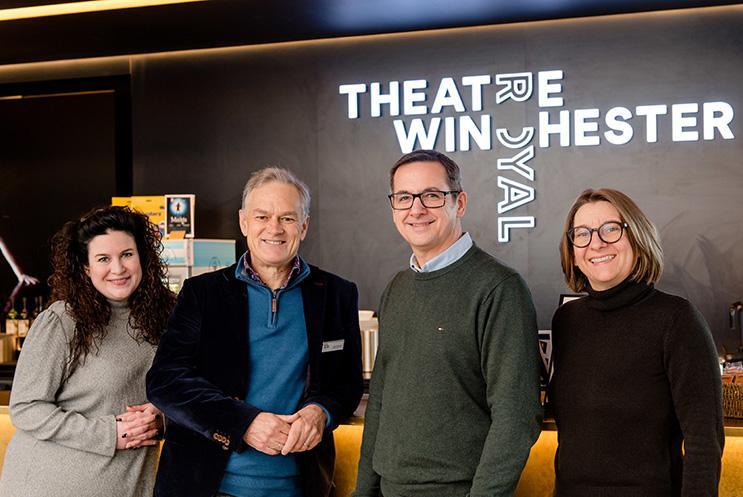 Photo L to R: Helen Freeston (Marketing Director, Paris Smith), Deryck Newland (Chief Executive, Play to the Crowd), Huw Miles (Managing Partner, Paris Smith) and Kirstie Mathieson (Communications and Development Director, Play to the Crowd)